Shoutout Qualtrics
Our Once & Future Unicorn
Newsletter and the information contained herein is not intended to be a source of advice or credit analysis with respect to the material presented, and the information and/or documents contained in this website do not constitute investment advice. Opinions contained within this letter are my own and not those of my employer.
This is going to sound lame, but I am always fascinated with where software companies place their advertisements - I am watching the TV show Mad Men right now, and I can't help but think about Don Draper, smoking a cig, and telling the CEO of Webflow to advertise on startup-focused podcasts. Someone once told me that if you put enough poster ads for software companies up on a wall, an airport will actually form around it. As a golfer, I love nothing more than seeing Workday across the cap of Davis Love III - that's a totally normal type of hat, right?
Looking normal isn't the point - it's about grabbing your attention and mindshare. And it works: I didn't even have to look up that DL3-Workday sponsorship, I have just watched enough PGA Tour Golf to place those two together. Another sponsor-player pairing I am familiar with is Zac Blair and Qualtrics. If you are not a big time golf-head like me, you might be unfamiliar with Blair - he's golf's equivalent of a journeyman. Bouncing from tour to tour, trying to make a living. But don't feel too bad for Zac, this year alone he has raked in $700K+ without any wins or huge performances. (Also, don't feel bad for him because the guy is an absolute golf nut, in the best possible way).
Plus, he's got his friends over at Qualtrics taking care of him. I will admit, I might not know that much about Qualtrics without Zac. Which is why when Qualtrics' parent company, SAP, announced that it was going to take Qualtrics public via spin-out, it caught my eye.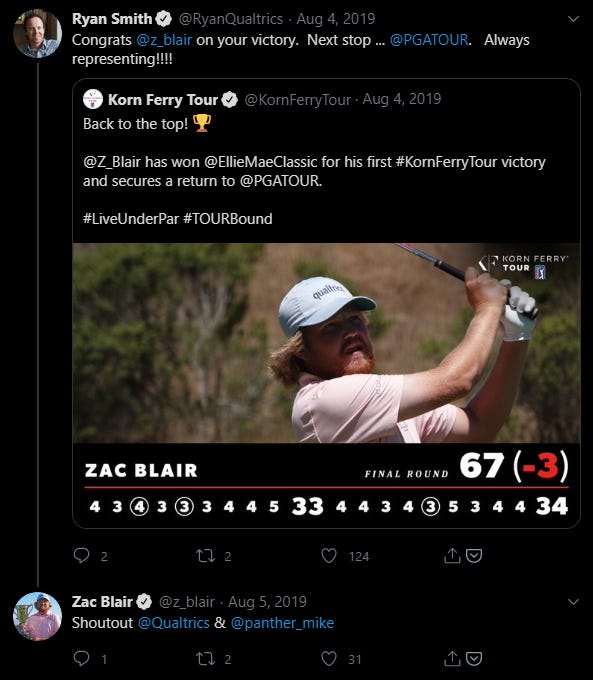 So what is Qualtrics? It is an "experience management" software company based in Utah. What exactly does that mean? It's SaaS-speak for saying they do survey and data analytics for commercial clients. It's like survey-monkey for serious people. Of course, this is an oversimplification, but the point is that Qualtrics, through a variety of means, collects a lot of data on it's clients' customers and then provides insights (both straighforward and complex) to said customers.
The Company got started all the way back in 2002, but didn't raise it's Series A round of financing until 2012 - a $70 million round from (*clears throat*) Sequoia and Accel. It then continued to raise large sums of capital ($150MM in 2014, $180MM in 2017), making it a behemoth in the Beehive State. At the time of its Series C in 2017, the Company was valued at approximately $2.5 billion - a Utah Unicorn! A year later, Qualtrics filed to go public.
However, that IPO was not to be - a month after announcing its public equity intentions, the Company was acquired by SAP. (I am going to guess you know what SAP is.) Remarkably, SAP paid $8 billion in an all-cash deal to scoop up the high-flying Provo-based company. While this is a huge sum of money, it was still a whale-swallows-minnow situation as SAP dwarfs Qualtrics with a market cap of ~$190 billion. Even at the time of acquisition, when SAP was experiencing some corporate hiccups, it was still worth well over $100 billion.
[As an aside, Qualtrics basically only had three investors: Accel, Insight Partners, and Sequoia. Sequoia and Accel were involved in all three rounds and Insight led the Series B & C. When you see some of the big dogs chase down internal companies like this, and still assign massive valuations, pay attention. All three of these companies made a killing. And remarkably, so did the founding team. At time of purchase, Ryan Smith, the once and future CEO of Qualtrics, made about $1.3 billion in cash.]
The German software giant had the money to make a purchase like this - but what was the logic behind this acquisition? SAP has a history of being relatively conservative, so making a big, splashy investment like this might seem like it went against the grain for the company, but that's not entirely true. They had previously made other multi-billion acquisitions, but mostly for public companies, such as Concur and Ariba, and occasionally for growth stage companies, like Hybris Software. However, at time of acquisition, these companies all had relatively stable valuation multiples - around 10.0x revenue. But when Qualtrics was acquired, it was assigned a 27.6x revenue multiple - pretty steep, even for SAP. At the time, it was the second largest acquisition of a SaaS company, coming in second only to Oracle's purchase of Netsuite for $9.6 billion in 2016. That might seem like a big price for SAP, but Qualtrics had nearly just tripled its revenue in a little over a year from 2017 to 2018 - SAP was paying up for growth and profitability.
So depending on how you slice it, the Qualtrics acquisition was a bold move by SAP. There certainly are plenty of ways to integrate and cross sell each company's respective products, but SAP was really looking for a new growth engine to help power it to the next phase of it's life. At the time, SAP's CEO compared the Qualtrics acquisition to the acquisition of Instagram by Facebook, which has turned out alright.
So far, Qualtrics has been a massive boon for SAP. Through the first six months of 2020, Qualtrics raked in ~$390 million in revenue. For context, that's about how much the Company made for the entire year of 2018, when it was acquired. In other words, the Qualtrics growth story is still very much in tact. Qualtrics' segment growth margin for 1H2020 was ~76.9%. It has been telling a very good story thus far. And while other parts of SAP have suffered due to COVID-19, such as Concur, Qualtrics has been able to gain market share and take advantage of consumer-centric trends driven by the pandemic. Overall, Qualtrics has been a bright spot for the Company, and the stock price certainly seems to confirm that: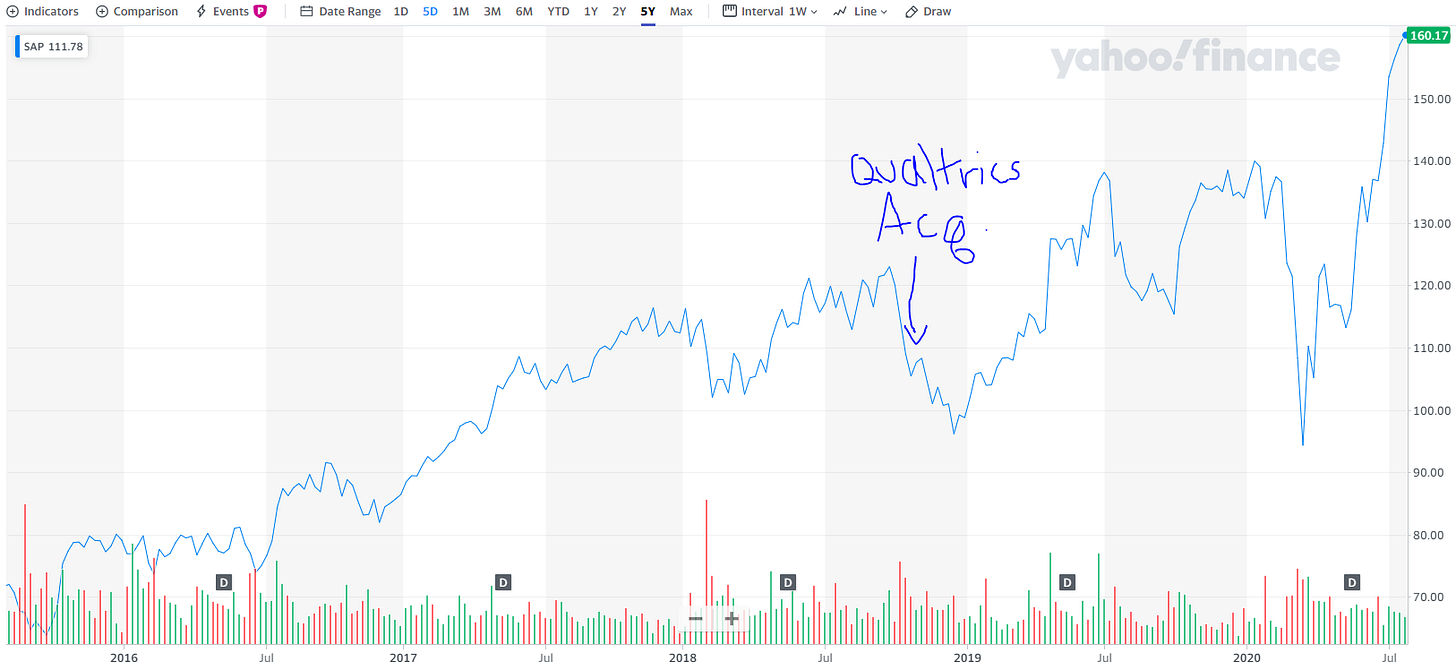 So it looks like this was a pretty good acquisition. But then news rolled around earlier this week that SAP would be spinning out Qualtrics via IPO. So if things are going so well, why spin the company out? First, it doesn't look like SAP will be giving up too much of the company - they are still planning on being the majority shareholder. (Interestingly, founder and CEO Ryan Smith is reportedly going to be the Company's largest individual shareholder). Also, it does appear that Qualtrics will still be pretty heavily involved in the SAP universe, so whatever synergies were potentially going on post-acquisition, will likely still occur post-IPO.
If I had to guess, I think there are a handful of things at play here:
SAP, while a behemoth who is in practically every enterprise worldwide (barely hyperbole), is part of a particularly competitive space within enterprise software - ERP. There are a handful of software giants who do ERP very well (Oracle), so if SAP were to slip up at all, you could expect Larry Ellison & Company to come after SAP's market share. In theory, SAP needs to reposition itself as singularly focused on this space in order to stay relevant where it makes its bread and butter.

The CEO who made the acquisition is no longer with the SAP. Bill McDermott - the guy who had such high hopes for this acquisition - stepped away from SAP less than a year after announcing the acquisition of Qualtrics. There is speculation as to why McDermott stepped down, including an activist investor starting to rattle the cage of the board, but the punchline is that whenever a management change like that occurs, there is probably some bigger strategic changes that occur as well.

It could be that SAP does not think it's getting enough recognition from the public markets for a product like Qualtrics and could receive even better multiples once it is trading on its own. SAP currently trades at ~7.0x revenue multiple, which is in line with similar competitors (Oracle trades around 5.0x). If the pitch to the markets could be made that Qualtrics is a high growth, high margin business on it's own and should be valued similarly to other "cloud stocks", it could be worth a lot more. On the high end, Shopify is currently trading at a ~59.0x multiple. That's a pretty big delta.
I am still not sure I totally buy any of those reasons other than maybe number (3). This is an interesting move for a company like SAP to make, and I am sure there will be more to the story as it unfolds. I am looking forward to checking out the S-1 and see what else is going on with the Unicorn in Utah.
Friday Links
Re-evaluating SAP's Qualtrics acquisition in the light of Medallia's blowout IPO
This article from a year ago talks about McDermott feeling the pressure when he was ousted. Very interesting stuff.
Porch to go public at $523M valuation in SPAC deal, marking new era for real estate tech company
SPAC's continue to ride. This is wild.
Relevant Meme: